As new technologies are created, and the gaming mouse market continues to evolve, certain gaming mice with three side buttons are now available. A gaming mouse may have one to eight customizable buttons. You will find it simpler to tailor a gaming mouse's performance to your demands the more buttons it has.
These days, selecting a gaming mouse might be challenging due to the variety of models on the market. There are many features to consider, like the sensor and programmable buttons, but which features make the difference for gamers? In this blog, I've decided to look at the top 10 best gaming mice with 3 side buttons, in my opinion.
Table of Contents
Which gaming mouse is the best?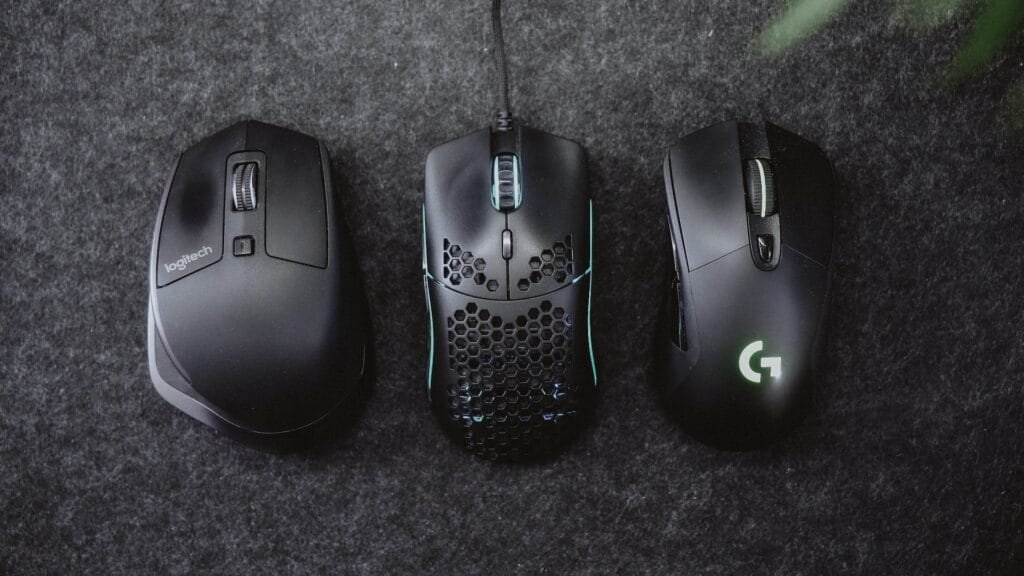 The best wireless gaming mouse currently on the market is the Logitech G502 Lightspeed. It offers a good assortment and layout of buttons, a long-lasting battery, and is comfortable to use. However, some new alternatives provide different designs and feature worth considering if you're looking for something different.
The Nightsword RGB gaming mouse from Corsair has 10 buttons, an ornate rubberized grip, and a striking thumb wing. Technical elements like the unique sniper button and potent sensor that provide excellent control for all your games are stunning addition to these visual ones.
Regarding the buttons, your mouse has about five on the left side of the device. To modify DPI, utilize the first set at the top, which is simple to reach with an index finger (Dots per inch). Just below that, there are two thumb buttons and a sniper button, making it simpler to use this device. In summary, its performance is competitive with comparable mice in its price range.
This sword works well for daily use if you have larger hands. However, I would suggest another one on my list with a better handle design if your palms tend to sweat readily and you frequently lose your grip.
Pros
Great For Gaming
Comfortable To Use
Built-in RGB Lighting
Ergonomic Design
18000 DPI
The Logitech G604 Lightspeed wireless gaming mouse is for players who enjoy MMOs and MOBAs. The Dual-Mode hyper-fast scroll wheel on this device, which can be pushed in locked or free-scrolling directions depending on your gaming preferences, is its standout feature. There are additional if six thumb buttons are insufficient to maintain control over all game features.
This device has a tiny DPI switch immediately below the primary left-click button that enables quick setting changes without removing a finger from the WASD keys (up to 4 different profiles).
Although it could be challenging to discern between all the buttons, they become much simpler to use with more practice.
One of the best sensors we have yet to see is the 16K Hero sensor. It makes it simple to change your DPI (dots per inch) on the fly, which helps players in games like FPS and MOBAs swiftly adapt to various scenarios. Here, the maximum sensitivity is an astounding 16K DPI.
In addition to that, this mouse operates exceptionally well because of its HERO Sensor. This brand-new optical gaming sensor offers a previously unheard-of resolution of up to 12000 CPI at 50g acceleration.
Any top left button can be used to modify your DPI setting because they are strategically located near each other for quick access during frenetic gameplay sessions where every second counts. One of the most durable gaming mice available. It has one of the longest battery lives, lasting up to 240 hours (while saving you money).
Pros
15 Programmable Controls
240 Hours Battery Life
Fast Scroll Wheel
Dual Wireless Connectivity Modes
The DeathAdder Elite has seven buttons, including the two side buttons and two additional ones below the scroll wheel. All of these are discreet and easy to access throughout your activities. You can customize their function using Razer Synapse 2.0 software if desired.
A great design that is comfortable for use even during extended sessions is the attribute of this product which has been mentioned several times by reviewers on Amazon. They also considered it solid performance-wise and, one must add, at such an affordable price.
The high DPI and IPS will make the mouse last longer, which is great for anyone who wants to use this product. The build quality also makes it more durable and sturdy because of its hard plastic material that can withstand wear and tear over time.
Pros
7 Programmable Buttons
Mechanical Switches
Great For Gaming
16,000 DPI Optical Sensor
Comfortable To Use
A fully ambidextrous mouse with eight customizable buttons is the Steelseries Sensei 310. It contains two thumb buttons on each side of the device, unlike other mice, which have them on one side. The custom sensor and excellent design make it a good buy at an affordable price range for gamers looking to play high-precision games or those using dual monitors for work.
You can better control your mouse (and gameplay) with the help of the textured grips on the thumb rest and scroll wheel. Conveniently, all buttons can be customized to your preferences, especially given that it also has adjustable illumination options.
The mouse includes two programmable LED zones, known as the Sensei 310. Many people have commended the TrueMove3 sensor for its precise tracking, user-friendly design, and performance.
Although there are only two settings on this mouse and a maximum DPI of 12,000, it will not last long. The non-braided cable is especially disappointing because braided wires typically have higher tensile strength than unbraided ones.
Pros
Great For Gaming
Built-in RGB Lighting
12,000 CPI
Lightweight
Comfortable To Use
We're always on the lookout for the next big thing, and for years, gaming hardware has been established in style by Logitech®. Our most recent creation is the G602 Wireless Gaming Mouse! We've upped the ante this year with cutting-edge technology to improve your online gaming. With just 4 AA batteries, dual sensors help deliver better speed and ultra-accurate movement for up to 250 hours.
It doesn't skimp on comfort either; 11 programmable buttons provide all the functionality you require, from complicated macros to straightforward commands, without sacrificing any power or performance in between, and long-lasting recessed side buttons with a remarkable 20 million click rating complete an ergonomic design that helps maintain hand stability for hours on end.
Pros
Great For Gaming
11 Programmable Buttons
Lag-Free Wireless Connectivity
Comfortable To Use
Use the ROCCAT Kone AIMO mouse to win the game. It provides all-day comfort for your hand and fingers with five separately programmable illumination zones and an ergonomic design.
With its flawless ergonomics and fresh, clever features, the Kone AIMO has us covered in a world where the mouse you use is just as vital as your abilities. With the sufficient weight system for both palm and claw grips and the dirt resistance of this hard-wearing, sturdy piece of engineering, you can say goodbye to wrist strain and unintentional finger weariness.
We have thought of all your winning moments and have up to 24 functions at your disposal on its button panel so you can stay ahead of even the most ferocious competitors down to their final life. An improvement over our previous models, the Roccat owl-eye optical sensor provides accuracy with 16K DPI visual tracking on any surface.
Pros
Good For Gaming
23 Programmable Keys
16,000 DPI
Ergonomic Design
Comfortable To Use
If you're looking for a comfortable mouse with 11 buttons, including two conventional thumb buttons, the Logitech G502 Lightspeed is the one for you. This gaming mouse's sleek, contemporary appearance and roomy thumb rest are its best features.
Gaming greatly benefits high-performance mice, and the G502 Lightspeed is no exception. According to The Toms Guide, it "performs flawlessly in games."
The G502 Lightspeed can be customized to a great extent. To fit your tastes, you may add up to 16 grams of weights (2×4 g + 4 x 2 g), and you can customize the colors of the DPI indicators and Logitech logo.
Pros
Great For Gaming
Comfortable To Use
Tunable Weights
Wireless Connectivity
Top esports players created and tested the CORSAIR CHAMPION SERIES goods, which may help you win with a tournament-grade mouse with a nice ergonomic shape for claw and palm grips, long-term comfort, and quick mobility with hyper-responsive inputs. The new CORSAIR SABRE RGB PRO weighs only 74g, supporting quick movements and responses. Its robust construction can withstand your longest bouts.
With CORSAIR QUICKSTRIKE buttons, an 8x faster cursor response time thanks to AXON hyper-processing technology, and minimal backlash thanks to a paracord weave cable plumbing your laser sensor for effective movement, the Sabre RGB PRO is our most inventive and cutting-edge gaming mouse to date.
You'll witness years of advancement as you pursue high-performance gaming equipment initially created by players for gamers.
Pros
Good For Gaming
RGB Lighting
Affordable
Ultra-Lightweight
6 Buttons
If you appreciate modular architecture, the Razer Naga Trinity is your mouse. Using interchangeable plates, you can modify your left side according to your preferences and choose between a twelve-button, six-button, or conventional two-button layout.
Why might you purchase this? Well, to begin with. The plates allow you to adjust the buttons based on the games you are playing, and since all mouse settings are recorded, there is no need to change them often.
The 2014 version of Razer's Naga features everything you could want in a mouse to improve your performance. Although this smart device is portable and simple, it might not be the best choice for someone with larger hands.
Pros
Great For Gaming
12 Button Configurations
Chroma RGB Lighting
2 Years Warranty
16,000 DPI
With no need for a mouse cable, automatic actuation gives you complete control over when and where to click faster than conventional mechanical switches. It also frees up your natural skill.
One is sure to be ideal for you thanks to its simple ambidextrous design, which enables it to be used with either hand equally well. Not just lefties can use the adjustable side buttons to make controls easier to reach; as they can be adjusted in all directions, any player can find their ideal position.
Lighting can be changed: With 16.8 million color options, your mouse will light up with the phrase "I'm feeling lucky" each time you play your game.
Pros
Good For Gaming
RGB Lighting
16,000 DPI Optical Sensor
Fastest Mouse
Affordable
Gaming Mouse Buying Guide
As more and more people try their hand at this thrilling hobby, people are pouring into the world of computer gaming. A person needs powerful hardware and a lot of practice to become good at PC games. Whatever game you choose to check out, whether you play alone or with buddies online, it's critical that your hardware can handle it.
Your mouse may or may not be a big benefit depending on the genre of games you want to play.
Gaming mice are designed for such uses because, for instance, in first-person shooters, they have the potential to confuse opponents completely by being incredibly responsive and accurate with cursor movements.
A gaming mouse offers a variety of advantages for gamers, including the ability to adjust sensitivity quickly and always have access to several buttons as well as precision movement. Even folks just beginning their first few hours playing video games would benefit from this useful device; hardcore gamers should consider purchasing one.
There can be some unfamiliar terms when you look at gaming mouse specifications. We're here to explain these technical details so that you may browse for a new mouse with confidence and understand what each number on the specifications list means.
1. Mouse Sensor
Without the sensor, the mouse would be pretty much useless. You may easily move objects around on the computer screen by using the sensor to track your movements and send them there.
Two different kinds of sensors, laser and optical, are found in computer mice. A rubber ball was used to move rollers that detected motion in the past, but modern technology has replaced this.
2. Laser
Laser sensors fire a tiny infrared laser onto their surface several times each second. An optical sensor then collects the lasers once they have returned from whatever they have struck with light.
A CMOS sensor receives a projection from a light source. The variations between the several images are examined to determine what was perceived at that precise moment it occurred. A laser is more durable and accurate for these operations than an optical mouse since it can penetrate uneven materials like glass much better.
A laser mouse is more likely to pick up unintended motions and jitter due to how it operates, which has the disadvantage of also having this benefit. On a surface, fibers or even dust can result in undesirable behavior.
3. Optical
An optical sensor uses an LED to illuminate the surface that the mouse is traveling across. Similar to images entering cameras, the light from this illumination bounces off that surface and enters a CMOS sensor.
The purpose of this camera-like device is to track movement by detecting changes in pixels over time throughout those many picture frames per second fed from its complementary metal-oxide-semiconductor or CMOS sensors. The system gets thousands of these images per second.
To detect where you move your pointer, an optical mouse captures pictures of the surface it is on. The mouse may not function properly if there are any reflective surfaces, such as mirrors or glass, since its environment will affect how it senses movement and distance.
Optical mice are now more accurate and dependable, making it easier to utilize them successfully on challenging surfaces.
4. Roll Rate
A mouse must communicate to the computer the integers containing its position. Similar polls are carried out during elections or other popular votes, and the pace at which they provide this information is referred to as a polling rate.
A greater polling rate can be something to consider if you're worried about how quickly your computer will react to changes in what is displayed on the screen. Movements can frequently appear quicker and smoother than they would otherwise. However, having this improved responsiveness has a drawback.
Performance could be negatively impacted if an application or operating system does not support it properly (or at all) since CPU resources could have been used for other activities instead of accelerating input/output speeds between the mouse and the monitor.
A mouse transmitting its position to your computer 1000 times per second, or 60,000 times per minute, is known as a 1000 Hz polling rate. This can be CPU-intensive since managing this many data points being sent over time requires additional resources from the CPU of a machine.
A higher polling rate may result in latency if there is insufficient CPU power because your mouse will transmit input signals to the computer every time you move it. Lowering the frequency at which each call should be delivered could enhance gameplay and lessen lagging by having subpar hardware
5. Programmable Buttons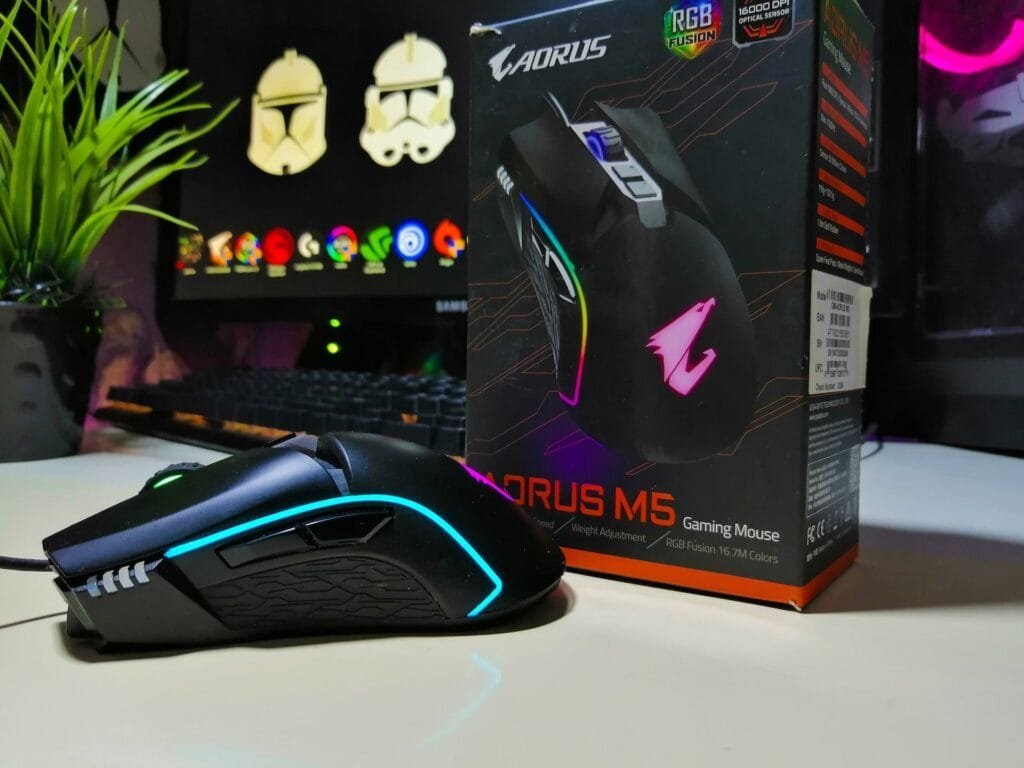 Although several gaming mice are available, they all have the same three buttons: left-click, right-click, and scroll. Your thumb can often press one or two additional buttons, giving you more game-playing possibilities.
This can have as little as two buttons or as many as 12, grouped like a number pad.
Hotkeys are extra buttons that can perform keyboard actions like moving your character in a first-person shooter, switching between weapons, and throwing grenades while freeing up the mouse for other duties.
6. Weight Customization
Typically, lighter mice are preferred by most people. Gaming mice with additional weights that can be added and removed as needed to alter the mouse's bulk, however, would be advantageous for people who have a perfect sweet spot or wish the mouse they purchased was a little heftier.
7. DPI/CPI
Dots per inch, DPI, and counts per inch, or CPI, are virtually the same. This metric determines how sensitive your mouse is by how far it can travel—inches or centimeters—before shifting only one pixel.
When using a mouse, some individuals prefer one with a higher DPI because they believe it is simpler to move the cursor and perform other tasks. Others discover that this method (the lower end) is better for more accurately targeting where you want things done on the computer screen once you adjust to your sensitivity level.
A DPI or CPI button will be present on a good gaming mouse. To acquire precise headshots from a distance when necessary but rapidly convert to quick reflex with no scoping for close-quarter battles in an FPS (first-person shooter) like Overwatch, this allows you to toggle through multiple sensitivity levels depending on the game and situation at hand.
The ability of DPI to render movement depends on the display's resolution. A mouse will go an inch further on a Full HD screen than a 4K one at the same DPI because Full HD has more dots, which means that each 'pixel' you move covers a greater area.
A good gaming mouse should have a wide enough DPI range to make this less of a problem.
Conclusion:
Ten of the top gaming mice with three side buttons have been gathered for us. After using these tips, you should have no trouble finding the ideal mouse for your requirements and tastes! When playing games like Fortnite, where there are numerous various kinds of weapons, the three-button design of this mouse will let you carry out more orders than if they only had two or one button. Some models come with interchangeable DPI (dots per inch) settings and weights, allowing you can adjust their feel to fit any game if you want even more customization possibilities.
What is the #1 gaming mouse?
The Razer Viper V2 Pro is the #1 gaming mouse on the market. It's been out since October 2016. It has one of the best designs: a scroll wheel, eight side buttons, a full-sized DPI dial, programmable keys, and a comfortable design.
There are two reasons why the Razar Viper V2 Pro is the best mouse for gaming. The first reason is that the Razer Viper V 2 Pro has an incredible combination of ergonomics and functionality. The Razer Viper V 2 Pro has a textured grip and a thumb rest. The thumb rest allows your thumb to stay put during long gaming sessions. The textured grip will help to keep your hand from slipping. These two features make it easier for you to play your favorite games for longer.
How Many Buttons are Good For a Gaming Mouse?
The number of buttons in a gaming mouse can be between 5 to 15, depending on the type of mouse. The more buttons, the better it is for gaming. This is because you can customize your settings more easily. If you have 15 buttons, you can make your mouse act like a keyboard and assign it any program you want. If you have five buttons, you can configure your mouse only to use your left and right buttons to click and drag.
What is a 6-button mouse?
A mouse with six buttons is very useful because it lets you easily perform several actions. It allows you to switch between programs quickly. This is the main reason it has such a high demand in the market. You can also access your files with a single click. The right and left buttons are perfect for this task. The middle buttons are good for changing the volume and for the task of zooming in and out.